I'm pleased to be hosting the Yakezie blog carnival this week.  The Yakezie is a personal finance blog network I joined several months ago to connect with other personal finance bloggers.  The bloggers work together to highlight articles from around the network and help each other learn more about blogging.
The blog carnival travels from blog to blog each week and is similar to a personal money management magazine full of different articles about personal finance.  Enjoy the posts in this week's carnival and visit www.Yakezie.com to learn more about the network and connect with the bloggers.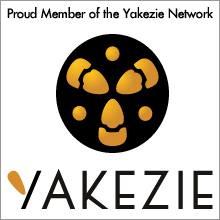 Sandy from Yes, I am Cheap presents: Reader Advice: Pia 401K or Debt.  My reader Pia is in a pickle. Pia decided to not repay consumer debts and now they come back to haunt her.  Do you have any advice to help her?
Dr. Dean from The Millionaire Nurse Blog presents:  Government Profits on Defaulted Student Loans? Can it be possible for the Feds to actually make a profit on DEFAULTED student loans?  Yes!
Amanda from Frugal Confessions presents: Holiday Article: 23 Things to Do Instead of Spending Money.    Did you spend too much over the holidays? How about spending less from your budget this month in order to mitigate what you have to take out of savings. Here are 23 ideas to keep you entertained in the meanwhile so that you don't have to sit around and twiddle your thumbs (like my grandfather would do).
Neal Frankle from Wealth Pilgrim presents: How Much Does It Cost To Start A Small Business? If you are considering starting a small business, this is the most important question you can ask yourself. And you have to answer this question with a great deal of certainty before you can responsibly launch your small business.
Kris from Everyday Tips and Thoughts presents:  More Great Financial Advice From the Media Don't Rush To Pay Off Your Mortgage.  Don't always trust what the media tells you.  In the case of the financial article evaluated in this post, there was a definite conflict of interest.
Jacob from My Personal Finance Journey presents:  My Current Financial Goals – Short Term, Mid-term, and Long Term.  A description of my revised financial goals (short, intermediate, and long term) for the 2011 year ahead.
Sam from Financial Samurai presents:  A Weight Loss Tip To Die For.
Darwin from Darwin's Money presents: Present Value of Money Explained.  One of the most important financial concepts is also one of the most misunderstood.  Make sure you understand the Present value of Money – with these real life examples.  It will save you thousands!
Kay Lynn from Bucksome Boomer presents:  My Top 10 Freezer Essentials.  I try to keep staples in the freezer so we can cook more and eat our less.  Here's my go to list of freezer essentials.
More Articles from the Yakezie Network
Finally, here are some recent articles from the Yakezie network.  Scroll through the list and read some of the articles that spark your interest!
Lottery Winners Give It All Away
Frugal Confessions – Frugal Living
Credit Score Roulette